Escape the stresses of everyday life and explore Owhaoko… challenge yourself - find yourself
A privilege available to only a few, we welcome guests to fly in and stay at our new Whare,
Te Whare Ruruhau, perched on the hillside high above the Mangamingi River valley.
Built in 2015 to accommodate a maximum of six guests, Te Whare Ruruhau provides a genuine New Zealand wilderness experience.
Walk in the footsteps of warriors who have travelled these lands for hundreds of years…
Discover rare flora and fauna…
Breathe pure mountain air and swim in fresh alpine streams…
Observe genuinely wild animals in their natural habitat…
Enjoy genuine silence and peace in the remote New Zealand bush.
Our Explore Owhaoko experience allows you to be as adventurous, or as relaxed, as you wish. You will return from your Owhaoko experience recharged and restored. Our two night, three day package includes;
Day One:
A scenic helicopter flight from Poronui to the new Whare
Lunch on arrival, and then time to explore the stunning landscape of Owhaoko.
A three course meal , prepared by your guide and host, Brent Pirie
Star gazing and story telling
Day Two:
A hearty cooked breakfast to prepare you for a day of exploring
A two hour walk to the Owhaoko waterfall, complete with gourmet picnic
Relaxation time in the afternoon before your three course evening meal
Day Three:
Breakfast on the deck at the Whare overlooking the valley
Your choice of flying directly back to Poronui, or walking 5kms down the Ngaruroro River valley for lunch before being collected by Helisika and flown back to Poronui.
For the more adventurous and accomplished hiker, you can walk the 20km track back to Poronui.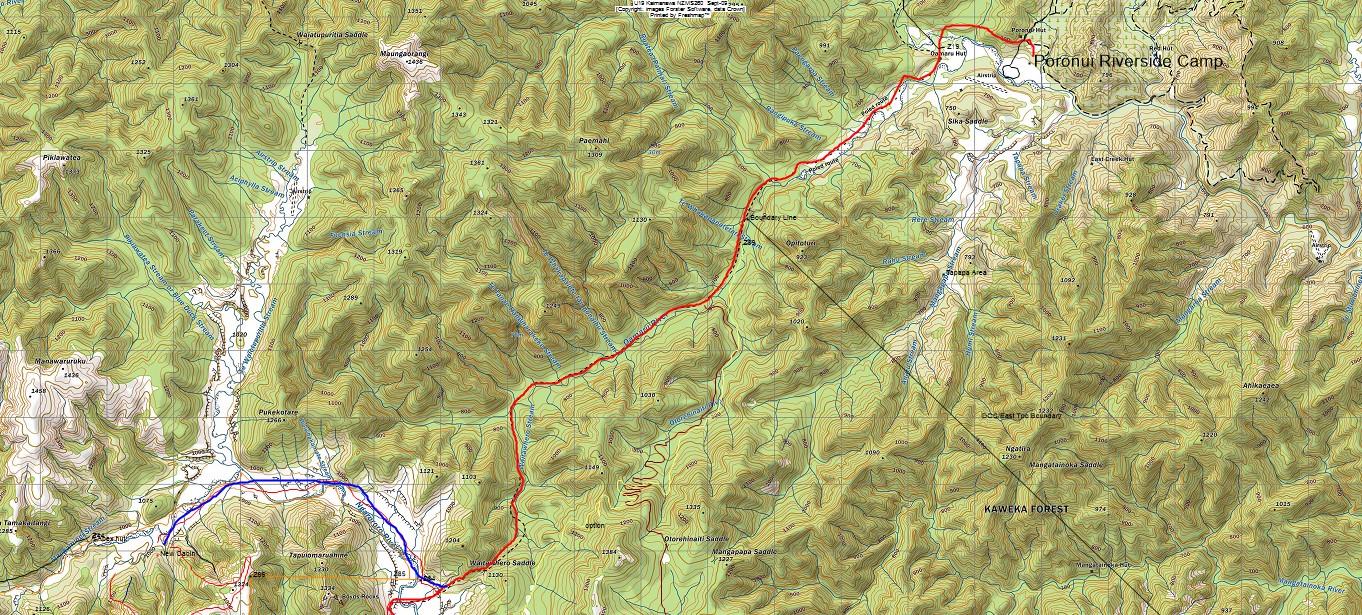 The Whare sleeps six, with a king bed (or twin-single beds) in one room, and four single bunks in the second bedroom. Whilst rustic in nature, the Whare offers a more luxurious stay than traditional bush huts or cabins. Crisp linen sheets, fresh coffee, hot showers and gourmet treats await our guests at the Whare.
Your guide, Brent Pirie, is one of Taupō's most accomplished outdoor tour guides. Brent is a wonderful chef and owner of a local iconic restaurant, and has a huge passion for sharing the New Zealand 'great outdoors' with both international visitors and kiwis. He will share with you stories of this majestic land, show you unspoilt scenery that will truly take your breath away, and prepare you a knockout cocktail to enjoy under the canopy of an ancient beech tree forest!
"You may ask if guiding is work -not for me! Guiding is just an extension of a passion I have for sharing my knowledge with clients so they can experience the natural beauty that only the wilderness of New Zealand has to offer. It was very fortunate that my career as a broadcaster, spanning 25 years, allowed me to indulge in my passion for the outdoors. After moving to Taupo in the early 90's and having a change of career as Events Marketing Manager for the district, I still managed to find time to occasionally guide for an exclusive lodge until I made the choice to guide full time. I pride myself on providing the best possible experience for all my clients through understanding and appreciating individual needs and requests, be it their first time, regular visitors or experienced hikers, it's giving them the best possible experience. I look forward to the opportunity to Explore Owhaoko with you, to share my passion and show you the fantastic scenery Taupo and New Zealand has to offer." Brent Pirie
Our Explore Owhaoko package including helicopter flights, meals, accommodation and dedicated guide, is $5815 incl GST for two people for 2 nights/3 days ($2907.50 per person) or $7670 for three people for 2 nights/3 days ($2556.67 per person).
We can tailor packages to suit your needs and group size. Please complete the enquiry form below and we'll be in touch soon to discuss your Explore Owhaoko experience.