The Trust administers Owhaoko A East and Owhaoko A1B blocks -
if you are an owner please submit your details in the Owner Enquiry form below
It would greatly assist us if you could provide verification of ownership from the
Māori Land Court records online.
1. So first visit this linkMāori Land Court records to search for your details.

We need the following information as shown online:
Name of Owner or Trust


Block ID and Name(s) that are listed in your search


ie 18931 Owhaoko A East and/or 18930 Owhaoko A1B
(you may wish to copy&paste these details into the enquiry form)
2. Go to the Message Box of the Owner Enquiry Form and fill in the details.

or if you unable to verify ownership from Māori Land Online, please enter relevant details in the Message Box.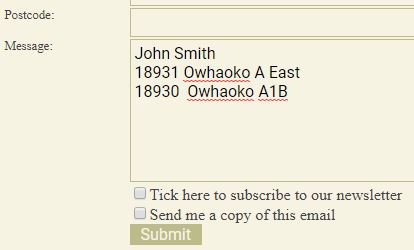 Owner AGM Hui are held every two years

The most recent owner's Hui was held in April 2017.
To keep informed about Trust business subscribe below or complete the Owner Enquiry.